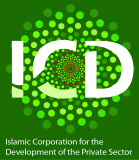 Multimedia content

Images

(1)

The Islamic Corporation for the Development of the Private Sector (ICD) announces the signing of Islamic facility agreement with Mizuho Bank (M) Berhad
Source: Islamic Corporation for the Development of the Private Sector (ICD) |
The Islamic Corporation for the Development of the Private Sector (ICD) announces the signing of Islamic facility agreement with Mizuho Bank (M) Berhad
The USD150 million Murabahah agreement is the second bilateral Islamic facility that has been extended to ICD by Mizuho Bank (M) Berhad
ICD is eager to extend its good track record and continue with its development work in the private sector of the member countries, especially on the infrastructure front
TOKYO, Japan, November 8, 2017/APO Group/ --
The Islamic Corporation for the Development of the Private Sector (ICD) (www.ICD-ps.org), the private sector arm of Islamic Development Bank (IDB) Group (www.IsDB.org), and Mizuho Bank (M) Berhad, a subsidiary of Mizuho Banking Group, have formalized a signing of Islamic financing agreement today. The financing is earmarked for the purpose of scaling up of ICD's projects in its selected 55 member countries. The USD150 million Murabahah agreement is the second bilateral Islamic facility that has been extended to ICD by Mizuho Bank (M) Berhad.
The Islamic financing term sheet agreement was signed by Mr. Khaled Al Aboodi, the Chief Executive Officer and General Manager of ICD, and Mr. Shojiro Mizoguchi, Chief Executive Officer of Mizuho Bank (M) Berhad.
Speaking on the occasion, Mr. Khaled Al Aboodi expressed his strong support for the partnership, stating: "I am delighted that we are raising our partnership to a new level. As this represents the second facility being extended to us, it is a testament of the strong relationship we have with Mizuho Bank. ICD is eager to extend its good track record and continue with its development work in the private sector of the member countries, especially on the infrastructure front. In addition, this facility will play an important role in improving access to affordable finance for our member countries and help financial institutions become viable envoys of economic development. At the same time, Japan remains an important partner for us and we are committed to supporting the country's efforts in developing Islamic finance capabilities of its well-established institutions."
Mr. Shojiro Mizoguchi said, "We are very proud to continue to work with ICD, one of the most dynamic and reputable multilateral development institutions and our valued partner. By providing the funding it needs to execute crucial development projects, it signifies the trust we have in ICD and provides an exciting opportunity for us to further strengthen our capacity in developing our Sharia'a compliant business. We look forward to leverage on each other's expertise and experience."
Distributed by APO Group on behalf of Islamic Corporation for the Development of the Private Sector (ICD).
For further information please contact:
Ahmed A Khalid / Nabil Al-Alami
Regional Head – Asia / Head, Marketing
E-mail: AAbdulKhalid@IsDB.org / NAlami@IsDB.org
About the Islamic Corporation for the Development of the Private Sector (ICD):
ICD (www.ICD-ps.org) is a multilateral organization and a member of the Islamic Development Bank (IDB) Group. The mandate of ICD is to support economic development and promote the development of the private sector in its member countries through providing financing facilities and/or investments which are in accordance with the principles of Sharia'a. ICD also provides advice to governments and private organizations to encourage the establishment, expansion and modernization of private enterprises. ICD is rated AA/F1+ by Fitch and Aa3/P1 by Moody's. For more information, visit www.ICD-ps.org.
About Mizuho Bank (M) Berhad:
Founded in 2011, Mizuho Bank (M) Berhad operates as a subsidiary of Mizuho Bank Ltd. (www.MizuhoBank.com) and is located in Kuala Lumpur, Malaysia.