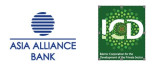 Multimedia content

Images

(1)

Asia Alliance Bank - First Chairman of the Management Board of Asia Alliance Bank, Mr. Umidjon Khakimov
Source: Islamic Corporation for the Development of the Private Sector (ICD) |
Signing of the Memorandum of Understanding between the Islamic Corporation for the Development of the Private Sector (ICD) and Joint-Stock Commercial Bank "Asia Alliance Bank", Uzbekistan
The Shari'ah compliant Line of Financing facility will be utilised by Asia Alliance Bank to provide financial support to private sector, including Small and Medium Enterprises (SME) in Uzbekistan through Islamic modes of financing
This Line of financing will enable Asia Alliance Bank to offer Shari'ah compliant products along with other banking services
JEDDAH, Kingdom of Saudi Arabia, September 25, 2018/APO Group/ --
On behalf of the Acting CEO and General Manager of the Islamic Corporation for the Development of the Private sector (ICD) (www.ICD-ps.org), Mr. Najmul Hassan and the First Deputy Chairman of the Board of the Joint-Stock Commercial Bank "Asia Alliance Bank" (Asia Alliance Bank), Mr. Umitjon Khakimov signed a Memorandum of Understanding on exploring the possibility of financing the private sector enterprises in Uzbekistan under a proposed Shari'ah Compliant Line of Financing Facility during the Islamic Development Bank Group's Day event in Tashkent, Uzbekistan.
The Shari'ah compliant Line of Financing facility will be utilised by Asia Alliance Bank to provide financial support to private sector, including Small and Medium Enterprises (SME) in Uzbekistan through Islamic modes of financing.
This Line of financing will enable Asia Alliance Bank to offer Shari'ah compliant products along with other banking services.
Distributed by APO Group on behalf of Islamic Corporation for the Development of the Private Sector (ICD).
About the Islamic Corporation for the Development of the Private Sector:
ICD (www.ICD-ps.org) is a multilateral organization and a member of the Islamic Development Bank (IDB) Group. The mandate of ICD is to support economic development and promote the development of the private sector in its member countries through providing financing facilities and/or investments which are in accordance with the principles of Shari'ah. ICD also provides advice to governments and private organizations to encourage the establishment, expansion and modernization of private enterprises. ICD is rated AA/F1+ by Fitch and Aa3/P1 by Moody's. For more information visit www.icd-ps.org
About Asia Alliance Bank:
The Bank (AAB.uz/en) is a privately owned universal commercial bank which carries out all kinds of banking operations represented in financial services market including servicing of private and corporate clients. Its principal activities are commercial and retail banking operations, transaction with foreign currencies, origination of loans, guarantees and letters of credit. The Bank is regulated by the CBU and conducts its business under the banking license #79 issued by the CBU on 15 August 2009, which was re-registered on 20 September 2014, and the general license for foreign currency operations #54 issued on 31 December 2011, which was re-registered on 20 September 2014.
The mission of the Bank is to professionally provide a wide spectrum of banking services which conform to the business needs of customers while promoting private entrepreneurship in the Republic of Uzbekistan.
For more information, visit Asia Alliance Bank's website at: https://AAB.uz/en/