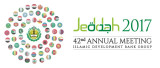 Multimedia content

Images

(1)

ICD Clients Day during IsDB 42nd annual meeting
Today, ICD is witnessing much stronger financial and political support from all member countries as evidence of recognition for its imperative role in the private sector
JEDDAH, Kingdom of Saudi Arabia, May 16, 2017/APO/ --
During the IsDB 42nd Annual Meeting, the Islamic Corporation for the Development of the Private Sector (ICD) (www.ICD-PS.org), organized a side event entitled "ICD Clients Day" at Hilton Hotel (Al Qasr A) Jeddah – Saudi Arabia.
During the event, ICD seized the opportunity to meet with potential clients and stakeholders from private sector to discuss the opportunities and challenges they are facing while seeking business partnership with ICD. In addition, ICD presented its achievements, highlighted some figures of its financial performance of year 1438H/2016G and awarded its Best Clients for 2016, namely Coris Bank International, Vitamed Medical Diagnostic Center and AlQadi Specialty Hospital.
Mr. Khaled Al-Aboodi the CEO and General Manager of ICD opened the session welcoming all the participants and delivered an opening statement saying: "...Our impact on private sector development stretched over a wide range of sectors reflecting our responsiveness to the needs of the market, as well as the corporation's strategic priorities and goals".
He added: "Today, ICD is witnessing much stronger financial and political support from all member countries as evidence of recognition for its imperative role in the private sector development."
Thomson Reuters presented the last edition of the Islamic Finance Development report. Afterword, the ICD best clients presented their companies and projects.
The event was a chance to share knowledge about major changes and economic developments in the member countries, to assess business, investment and projects opportunities, and to network with the decision-makers, industry leaders and experts.
Distributed by APO Group on behalf of Islamic Corporation for the Development of the Private Sector (ICD).
Media Inquiries:
Mr. Nabil El Alami
Email: NAlami@ISDB.org
Fax: +966 12 6444427
Tel: +966 12 6468192
About The Islamic Corporation for the Development of the Private Sector "ICD":
ICD (www.ICD-PS.org) is a multilateral organization and a member of the Islamic Development Bank (IDB) Group. The mandate of ICD is to support economic development and promote the development of the private sector in its member countries through providing financing facilities and/or investments which are in accordance with the principles of Shari'ah. ICD also provides advice to governments and private organizations to encourage the establishment, expansion and modernization of private enterprises. ICD is rated AA/F1+ by Fitch and Aa3/P1 by Moody's. For more information visit www.ICD-PS.org.